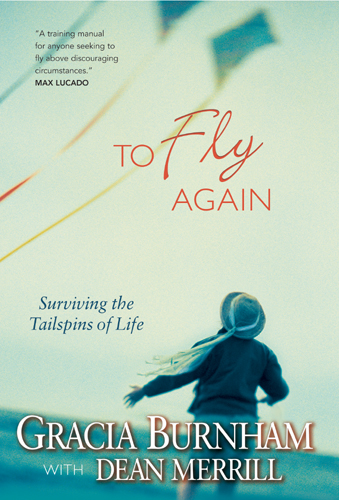 Are you familiar with Gracia Burnham? I met her last February and appreciate her writing and ministry immensely! If you ever get a chance to hear her, I'd highly recommend you go!
I'd love to share her books with you! When the unthinkable becomes real--whether it's widowhood, cancer, crime or catastrophic loss--
To Fly Again
can come alongside as a welcome walking companion.
Gracia understands what it's like when life changes, but refuses to give cliches' or final answers in the 21 short, engaging and personal chapters she wrote here. God is much bigger than easy ways out, and and much holier than trite answers can contain. What this book provides is that sort of perspective---God's character and our eternity. We're not home yet, and for the Christian, that
home
in heaven with God provides solid hope and comfort.
Gracia's first book,
In The Presence of My Enemies,
is also part of our Free Book Give-Away. As misssionaries in the Philippines, while on a bit of a vacation, Gracia and her husband, along with other tourists were taken hostage be terrorists shortly after 9/11. Her account will keep you (or your teens) glued to this book! Gracia is so down-to-earth and honest as she tells what it was like to be a middle-aged woman, torn from her children, and constantly on the run through jungles, prodded by guns and death threats round-the-clock. Where was God? Did he care? Did he see? Did he help? Click
here
to find a PDF link for reading the first chapter.
Only FIVE days left to enter your comments and get in the drawing on Aug. 2!