Last week I was out in Oregon and Washington spending time with some of the dearest people in my life. In Oregon I stayed in a beach house my sister had rented for our whole family so we could attend her daughter's wedding! It was so wonderful to be under the same roof with her and her family and my parents---I haven't seen any of them for almost two years so our days together were just glorious! Then, two of my kids joined us, and after the wedding I ventured up to Seattle to spend a few more days with them. Who knows when I'll see them again, so I'm sure you understand what a special vacation this was for me.
But one of the highlights of the trip was meeting up with one of my readers! Yes! Last Monday, at Grand Central Bakery in Seattle, my friend Missy and I shared a quiche and a thick slice of French toast---and so much more! Our journeys, sorrows, hopes, and miracles! In this short page I can't tell you what a privilege it was for me to meet her and hear a bit of her story.
But one thing she wondered, now that the first year of widowhood is behind her, was a question that the majority of widows face:
What's next?
And in this short page there's not enough room for me to tell you the answer to that question either. But I can tell you this much: some day you'll look back and be amazed!
In the meantime, here are two books written by widows that can help guide us all into the next chapter of our lives.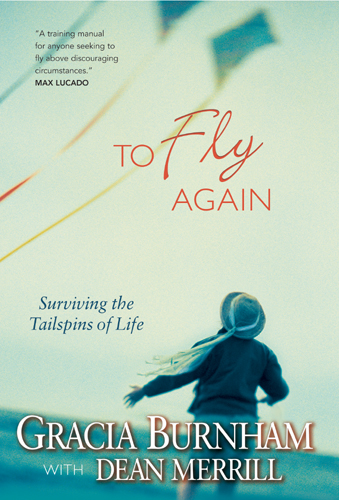 1). To Fly Again - Surviving the Tailspins of Life
by Gracia Burnham I've met her and appreciate her writing and ministry immensely! She also wrote
In The Presence of My Enemies
, the account of how she and her husband were missionaries in the Philippines and held hostage for a year by terrorists. If you ever get a chance to hear her, don't miss out!
When the unthinkable becomes real--whether it's widowhood, cancer, crime or catastrophic loss--
To Fly Again
can come alongside as a welcome walking companion.
Gracia understands what it's like when life changes, so she refuses to give cliches' or final answers in the 21 short, engaging and personal chapters she wrote here. God is much bigger than easy ways out, and and much holier than trite answers can contain. What this book provides is that sort of perspective---God's character and our eternity. We're not home yet, and for the Christian, that
home
in heaven with God provides solid hope and comfort.
2). In her latest book,
Where Do I Go From Here?--Bold Living After Unwanted Change
, by Miriam Neff, founder of
Widow Connection
, you'll discover how to take care of yourself, handle singleness, consider remarriage, forgive others, and choose to live well. I was glad to see she re-visited the Board of Directors technique and the list of discerning qualities between wisdom and foolishness she recommended in her previous book,
From One Widow to Another.
Several other exercises and models are added to
Where Do I Go From Here?--
such as The Blue Bowl Perspective, Before House/Next House/New House, Kingdom Equity, and Rating Your Life Values.
I'd call the study guide your own "therapist in a box." Go through those questions on your own or with a few friends and in a matter of six lessons you will have a grip on the steering wheel and the answer to
Where Do I Go From Here?
Life may not be as you expected after loss, but it can be entirely vibrant and splendid as you keep turning the kaleidoscope.
I'd recommend this book for widows and others who are past the initial shock of grief and asking themselves "what's next?" To see my full review, click here:
http://www.widowschristianplace.com/2012/07/now-what.html
and for more about Gracia Burnham, click here:
http://www.widowschristianplace.com/2012/07/books-by-gracia-burnham.html
and here:
http://www.widowschristianplace.com/2013/05/widows-story-gracia-burnham.html
Please remember if this blog post comes to your email inbox, you might need to go directly to the blog for the links. Simply click the title of this post.
Until tomorrow!
♥
ferree