Linda Lint,
Sparrow Scrolls
blogger and a featured writer on
Widows Might
, is helping me out today with her thoughts captured at 10 months into widowhood. I know you'll be uplifted and encouraged, and I thank Linda for sharing and I thank the Lord for His Word---He has us covered for every situation in life---and every tear...
♥
ferree
You keep track of all my sorrows.
You have collected all my tears in your bottle.
You have recorded each one in your book.
Psalm 56:8 New Living Translation (NLT)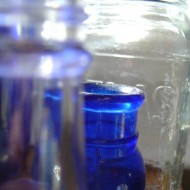 Somewhere in heaven there is a beautiful bottle with my name etched upon it by God's own hand. It carries a simple label - "Tears". Psalm 56:8 says that God collects my tears in a bottle. Over the years I have read that verse many, many times and thought it to be a very comforting concept. However, I never gave it a lot of thought until a couple of months ago when I was presented with the tears in a bottle concept in various ways over a period of two or three days...
(read more
here
)